Christoph Gerigk
Ghost Ships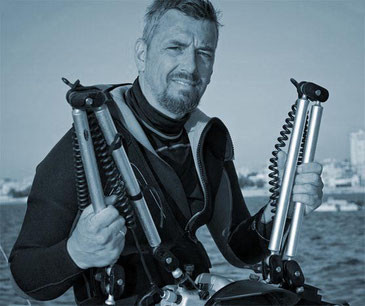 Christoph Gerigk, born 1965 in Oldenburg / Germany, is dedicated to underwater photography for thirty years. His assignments are published in leading magazines worldwide, as National Geographic, GEO, Der Spiegel or Stern. His photographic documentation of the recovering of the sunken cities off the mediterranean coast of Egypt through Franck Goddio and his team have been honored with the World Press Photo Award twice.
His underwater photography reflects his acquaintance with the magic and mysteries of the oceans. Wrecks are a special topic for Christoph, which started his carreer thirty years ago and still fascinates him today.
His work "Ghost Ships" was a milestone for underwater photography, the accompanying book has won many awards and is a classic of art photography. It is a particular honor that for the first time we are able to offer the possibility to acquire this groundbreaking piece of work at an affordable price for a greater audience. You will not only secure a piece of art but at the same time a document of underwater archaelogy and the popular history of scuba diving.